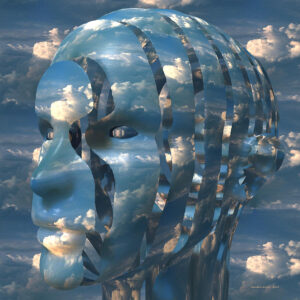 Businesses speak up about how they're flying thanks to cloud computing
Imagine if Frank Sinatra was an entrepreneur.
If he was in business, besides being effortlessly cool, he'd be totally nuts about cloud computing. Why? Because he's the man who once sung: "Come fly with me".
And not just that, he also sung in "I saw your face in a cloud".
Jokes apart though, there are many good things that could happen if you take Sinatra's example and fly away into cloud computing.
We asked businesses to tell us how cloud has been able to impact their balance sheets:
1. Battersea luxury floor business Harvey Maria: "We can act like a big firm even though we only three staff"
Owner Mark Findlay says:
"Back in the mid-late noughties we realised we needed to completely rethink and structure our business. Moving all of our operating systems to the cloud was a big part of this transformation and we chose NetSuite's cloud-based SuiteCommerce solution to drive this change.
"Essentially, operating in the cloud allows us to have the profile of a big company, but operate like a lean, small company. With just three full-time members of staff, we use this software to outsource everything to keep staffing costs down. The solution also integrates accounting, CRM B2B and B2C eCommerce, including shopping cart management and check-out, which makes managing our outsourced processes really easy.
"Our annual turnover is increasing by 50% year on year and since doing so SuiteCommerce has been integral to our success, enabling us to easily sell and ship internationally. The technology automates the whole process taking into account currency exchange rates and delivery costs. Moving to the cloud for us was also the natural choice as it's scalable as well which prevents any IT headaches when you want to grow."

2. Martial arts equipment retailer Blitz Sport: Cloud helped us double our turnover and increase international sales tenfold
Chris Geast, Blitz Sport head of IT says:
"We run all of our commerce processes through the cloud. Prior to this, we had a number of systems running different parts of the business, including separate software for mail order management and B2C and B2B eCommerce inventory management as well as delivery. As we grew managing these disjointed systems became a struggle. We couldn't see a real-time view of stock levels across our different retail channels, resulting in customer orders being processed for out-of-stock items.
"Our main reason for choosing cloud over on-premise solutions was cost. We use NetSuite to run so many parts of the business without a dedicated IT staff and we don't need to buy and maintain any hardware on-site.
"Since installing NetSuite our overall turnover has doubled. Its easy integration processes have allowed us to increase international sales tenfold. We use it to automatically create local regional websites with the right currency and adhering to local compliance and retailing laws, which saves us hours of time."
3. Luxury accommodation providers Boutique London Lets: "We've trebled in size every year since getting cloud"
MD Derek Gallimore:
"Although based in London, we're now an international company with 90% of our trade coming from overseas bookings across all different time zones. To ensure we can handle all these queries and provide great customer service, we provide a 24/7 phone and email support service with staff based in the Philippines, London, the US and Australia.
"With such a global spread of employees, we simply couldn't exist without the cloud. We're able to share documents, and access information wherever we are, on whatever device, or using cloud tools such as Google Groups for quick online discussions to answer customer queries as quickly as possible. Storing all essential documents in the cloud means we can also respond much quicker to email enquiries as multiple employees can access template responses instead of having to wait to receive large files over email across different time zones.
"And because the cloud is by its nature so easily scalable it's enabled us to grow quickly too, without any of the usual problems and expense you get when you try and upscale traditional IT. In fact, since 2009, when moving to Google Apps we've trebled in size every year for four years, and the cloud has certainly played a huge part in enabling that."

4. Accountants Charlie Carne & Co: "Cloud has saved time, money and allowed more flexible working"
Founder Charlie Carne says:
"Cloud-based bookkeeping has revolutionised the way we work. Now I can access a client's records in real time, wherever I am, and ultimately provide a quicker, more responsive service to clients. Pretty much all my client data now gets filed electronically and sits securely in the cloud, saving me valuable filing space, time and money previously spent on posting out documents.
"The fact that cloud-based software such as QuickBooks Online is so accessible means I've been able to employ more flexible working practices, employing more work-at-home parents and saving a huge amount of time and money previously spent travelling to see my clients and access their accounts."
5. Ethical bag-makers ElephantBranded: "Cloud is our virtual office on the move"
Founder James Boon:
"We're often travelling and trying to keep on top of complex projects, so we've really taken to the Basecamp application. It is now our virtual office, and allows us to run ElephantBranded from our phones anywhere in the world. Without it, our way of doing business would not be possible!"

6. Business consultancy firm It's a Glorious Day: "We can keep track of all our projects quicker"
Laurence Coen, founder, whose clients include Vodafone, TUI Travel, KPMG, says:
"Our business has been transformed by using cloud computing. We have two main offices – one in London and one in Budapest, plus various mobile workers moving around Europe at all times. As you can imagine, before the move to cloud computing we faced a challenge to keep track of work projects.
"Before we used Dropbox, I could never find e-mail attachments when I wanted them and was in constant upheaval on the road. Now everything is ordered logically and can be accessed instantly wherever I am in the world.
"We use Basecamp as a collaborative based working system so that all of the team can chip in on projects. It means that everyone gets their say in real time as thoughts are recorded and processes worked through logically. We also use 'Tick Time' for time sheets – it adds up each of our hours and drops them into the right client invoice automatically. That's a no-brainer.
"We have found that one of the benefits of having a wealth of cloud computing tools at our disposal is that different team members prefer different methods of communication. It's just human nature because our brains are all wired differently and we process information in a variety of ways.
"So our creatives might prefer to draw a diagram and post it on Basecamp, whereas members of the admin team might prefer to use video conferencing or IM for example. Everyone has their 'preferred' way of being contacted too, so we know how to get hold of them at a moment's notice.
"By combining a varied swathe of Cloud-based systems – it gives scope for each of us to participate on a project in our own individual way."

7. IT firm Postcode Anywhere: "Cloud helped us become of the UK's fastest growing IT companies"
CTO Jamie Turner says
"We became one of the UK's fastest-growing IT companies by investing heavily in innovative cloud computing, which makes it far more cost effective to deliver business software and services.
"The internet provides an ideal medium for managing data between distributed systems compared to traditional EDI [electronic data interchange] methods. This allows data to be more easily moved between different systems and platforms at a much lower cost than has historically been the case.
"We've seen the cloud evolve over the last 10 years and realised from an early stage that the use of web technologies makes it easier to access different systems. One of our core focuses has always been delivering data anywhere – to any software on any device anywhere in the world. We started with postal data but we realised that the same technology can be used by our customers to make their own data available anywhere and, crucially, make it easy to share and move it around."
Author: Asa Bennett
Source