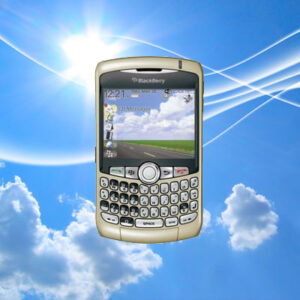 BlackBerry-maker Research In Motion and Microsoft are teaming up around a cloud computing strategy through which the two tech titans integrate cloud services and solutions.
RIM said Thursday that cloud computing has always been a major component of its BlackBerry business, whether it's real-time push, security or the backend architecture and RIM's 2011 BlackBerry Product roadmap will focus heavily on the cloud.
"Cloud has been our business for years," Alec Taylor, RIM's vice president of software services and enterprise marketing, said during a BlackBerry Webcast, adding that the Waterloo, Ontario-based smartphone giant plans to continue its cloud push in coming years.
As part of its cloud strategy, Taylor said BlackBerry has three distinct cloud offerings in the works.
RIM is expected to launch BlackBerry Enterprise Service, which is the ability to deploy and manage BlackBerry devices in the cloud. Available in late 2011 for a monthly subscription service, BlackBerry Enterprise Service will include features similar to BlackBerry's on-premise BlackBerry Enterprise Server in the cloud.
It is with the BlackBerry Enterprise Service where Microsoft comes in, as the two companies are teaming up to offer BlackBerry Service for Microsoft Office 365 and Hosted Exchange. The partnership will make RIM-hosted BlackBerry Enterprise Service available to users ofMicrosoft Office 365, the upcoming iteration of Microsoft's Business Productivity Online Suite (BPOS) cloud computing applications play that comprises Office, SharePoint Online, Exchange Online and Lync Online. At the start, BlackBerry Service for Microsoft Office 365 will be available for the Exchange component of Office 365, with more integration to come.
Taylor said that through the relationship BES servers in RIM's data centers can connect cloud-to-cloud with Microsoft data centers.
"Rather than having a BES hosted in a Microsoft data center, it is now hosted by RIM," he said.
Capabilities will include wireless syncing with Exchange Online; BlackBerry Balance, which lets enterprise users leverage BlackBerry smartphones for both personal and businesses uses without compromising data; remote device wiping; security and online policy management; single sign-on with Microsoft Office 365; and automatic BlackBerry and RIM software updates.
Taylor said RIM-hosted BlackBerry Enterprise Service will be available to customers on a subscription basis starting at $0 per user per month with a BlackBerry service plan. The deal will also see Microsoft changing the price of the current Microsoft-hosted BlackBerry Enterprise Service for its Business Productivity Online Suite (BPOS) standard edition making it $0 per user per month.
Taylor said RIM and Microsoft will launch a closed beta of the new BlackBerry Service for Microsoft Office 365 this year, with general availability by the end of the year.
More Cloud Services; RIM BlackBerry PlayBook For Enterprise
RIM is also expected to launch BlackBerry Protect offering for individuals, home offices and small offices that delivers cloud-based security for smartphones and devices for locking, backup and restore, data wiping and device location.
And RIM plans to release the BlackBerry Management Center later this year. Geared toward SMBs using ISP or hosted e-mail, the BlackBerry Management Center will offer cloud-based control and management of employee devices.
Along with adding more detail to its cloud strategy, RIM also gave more insight into BlackBerry PlayBook, the upcoming BlackBerry tablet. RIM still has not revealed the release date or pricing for PlayBook.
Taylor, however, said PlayBook will feature four distinct connectivity options based on what users require. Personal mode will offer a secure computing experience for personal users with password protection; BlackBerry Bridge mode will offer secure access to e-mail, contacts, intranet and Web through pairing with a BlackBerry smartphone; VPN mode enables the secure connection of a BlackBerry PlayBook directly to a corporate network; and BlackBerry Balance mode, which ties together work and personal content into a unified view while keeping content and applications segmented.
And for PlayBook management in the enterprise, RIM said companies will initially be able to leverage BlackBerry Enterprise Server via BlackBerry Bridge mode and additional management capabilities for PlayBook are on the horizon. Those capabilities include provisioning, configurations, settings, policies, application management and audits.
Combined, Taylor said, RIM's BlackBerry cloud services, its Microsoft Office 365 partnership and the pending release of PlayBook move RIM's cloud computing strategy forward.
"Cloud has always been core to our business," he said, adding "We feel very well positioned."