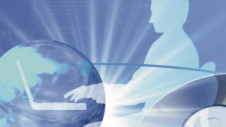 A short summary of the benefits of the cloud for organizations from here. A key point is to pick a professional and fully redundant supplier. meshIP has redundant systems, data centers and fully backs up your data each day.
'Cloud computing' sounds like a complicated idea, but if you use Flickr to store your photos, or Hotmail to keep in touch with friends and family, or stream music over Spotify, then you are, in effect, using a cloud service. Data is stored remotely, rather than on your own computer, and can be accessed through any web-enabled device.
For businesses, moving systems, software and services to the cloud represents a significant cultural shift – the IT departments in most companies, for instance, make you jump through bureaucratic hoops just to get a new keyboard and mouse, or reset your password.
But cloud computing makes a great deal of sense for a large number of organizations. Rather than the expense of investing in and supporting data facilities on their own premises, companies can instead outsource that responsibility to a cloud company. Money can then be spent on procuring the best computers for workers, or rolling out and supporting innovative mobile working schemes.
Because the 'grunt work' of computing is handled off-site, cloud services are a flexible and scalable solution for a lot of companies: say, for instance, a business needs to bump up its computing power to crunch millions of numbers at year end; extra, cloud-based computing power could be purchased for that period, rather as you pay for units of other utilities, such as gas or electricity.
Cloud computing services can also be more economical and eco-friendly – a centralized data center uses less energy in most cases than disparate, localized data farms, while the fact companies only pay for what they use means they're not spending more than they need.
All that being said, there are still some significant problems with cloud computing. One of the prime reasons companies haven't fully embraced this future is the fear of downtime – if remote data centers or systems go down or off-grid, an organization is reliant on someone else identifying and fixing the problem, and that could have an impact on productivity.
Likewise, the security of data is a concern for some companies – organizations need to be sure that crucial information is stored safely and securely, that access is restricted to ensure its ongoing privacy and integrity, and that cloud-hosted data won't be at the center of an embarrassing breach or leak.
Similarly, choosing the company that will provide cloud solutions is crucially important – it's important to choose a reputable organization that backs up a business's data across multiple sites in case of fall-over or failure, and which has protocols in place should they go bust, so that data is easily retrievable.
Despite these potential issues, some of the biggest technology companies in the world believe 'cloud' is the future: Microsoft has invested heavily in its Azure platform, while Google is launching Chrome, a web-based operating system that does away with the traditional desktop.
Brian is an accomplished executive with senior management experience in all facets of the technology, telecom, cloud computing, SaaS, CRM and social media industry. He has proven success in developing, financing and executing strategic plans as well as launching new ventures. His credentials include an MS from the School of Computer Science at DePaul University as well as an MBA in Marketing and Management Strategy from the J.L. Kellogg Graduate School of Management at Northwestern University.

Specialties:

His experience and expertise includes cloud computing, hosted PBX, virtualization, social media, business formation, venture funding, technology services go-to-market strategy development, SaaS, CRM, product development and launch, financial modeling, new market entry, sales, business development, and sales management.

To learn more about our approach to technology strategy, check out this video presentation where you will learn how the consumerization of technology has made it possible to run an entire organization from a simple internet connection.

The meshIP blog is a curated compendium of news, opinion and information about cloud computing, virtualization, VoIP and hosted PBX technology for our clients, prospects and the cloud curious. It is managed by Brian Byrne, the founder and a Managing Partner of meshIP. We are a Dallas, TX firm offering cloud computing, hosted applications, virtualization, hosted PBX and specializing in company formation, business plan development, funding and growth strategies.