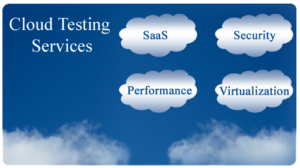 Most companies now talk of adding cloud capabilities to their product and service offerings, and a number of companies, such as Google, now claim to be cloud-based. Such trend leads to network operators, as well as test equipment vendors, to decide if cloud computing presents them with any opportunities particularly in the enterprise and consumer areas.
What is cloud computing anyway? According to Wikipedia, cloud computing is an Internet-based computing, where shared resources, software and information are provided to computers and other devices on-demand. Cloud computing describes a new supplement, consumption, and delivery model for IT services based on the Internet that naturally involves over-the-Internet provision of scalable and often virtualized resources. Cloud computing presents a natural evolution of service delivery over a network. In addition, it has been an essential part of the consumer Internet experience since the time Internet became being accessible to consumers. It is interesting to observe that the industry is shifting from residential subscribers that are pleased with accessing useful services on the Web towards the same concept within the enterprise world. However the enterprise value perception of the cloud is by far different than that of residential customers.
The popularity of the consumer cloud is obvious in social networking and collaboration applications such as Facebook, with over 500 million users, and Google Apps, with more than 20 million subscribers. Such applications continue to evolve to offer more embedded applications to extend into different consumer lifestyles.
Cloud computing offers its enterprise users tremendous CAPEX savings. In general, cloud computing customers do not own the physical infrastructure, or IT staff, but rent usage from a third party provider in order to save money. They use is as a service and pay only for resources that they actually use. In addition, the cloud is extremely scalable and it allows one to build as much capacity and bandwidth as they are willing to pay for.
One of the valid concerns that enterprise customers have is related to data integrity and application performance. Moreover, cloud reliance can cause significant problems if the control of downtime and outages is removed from an enterprise. Reliance on the cloud can cause real problems for an enterprise. If you compare the concerns of enterprise customers regarding the cloud with the consumers, there are quite different. Consumers are more concerned with the breadth of capabilities and the ease of use to access those capabilities via cloud.
While cost and ease of use are great benefits of cloud computing, there are a number of important security concerns that need to be addressed when considering moving critical applications and sensitive data to public and shared cloud environments.
Different countries have different requirements and levels of control placed on access. Since the enterprise's data is located in the cloud, people often do not realize that the data resides in a physical location as well. Access control becomes a key concern as well, because insider attacks become a tremendously risky.
While cloud computing is often misunderstood with similar technologies such as grid computing, the cloud uses a network of datacenters, loosely coupled to each other to perform a common task. Though cloud computing was initially used to provide software-as-a-service (SaaS), over time the essence of cloud computing has evolved into a collective term called XaaS, which represents "anything as a service". Today, any cloud infrastructure is capable of supporting different business models such as Infrastructure-as-a-service (IaaS), Communications-as-a-service (CaaS) and Platform-as-a-service (PaaS).
Any enabling technology in the communications industry comes with a set of risks and challenges that has to be mitigated effectively. Some of the common challenges faced by service providers and enterprises include concerns over security, privacy and data integrity. As many organizations operate their critical business applications and software solutions through cloud, continuous availability without any downtime is a very important factor to be considered while testing the cloud.
There are two different approaches towards how companies look at the cloud testing market.
1. Cloud Testing: This market segment comprises of typical test and measurement companies who focus on testing the cloud-based hardware infrastructure using both functional and non-functional testing. The usual performance characteristics that are tested include load and stress, security and scalability.
2. Application monitoring: The massive deployment of cloud infrastructure throughout the world created a potential opportunity in the market for companies to monitor the performance of applications and software solutions that are hosted in the cloud environment. Today, there are several companies in the market that provide web performance and application monitoring solutions for large enterprises.
Cloud computing offers more flexibility for the IT organizations to deliver software solutions, applications and infrastructure as a service at a lesser cost. It also provides the end-users an advantage of using the applications and infrastructure on a pay-per-use basis. As cloud computing continues to penetrate the IT market on a global scale, it is expected to provide more growth opportunities for the test and measurement vendors to mitigate the risks and challenges associated with this technology.